3 EXCERPTS FROM TODAY'S NY TIMES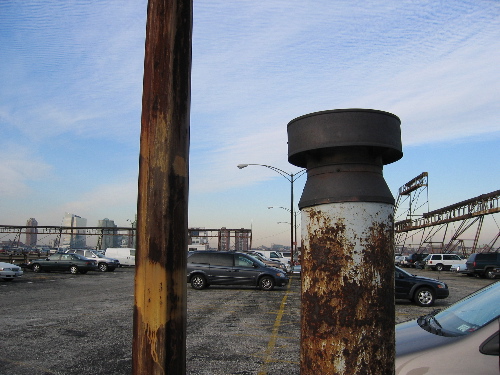 Connect the dots:
December 10, 2003
Pentagon Bars Three Nations From Iraq Bids
By DOUGLAS JEHL
WASHINGTON, Dec. 9 — The Pentagon has barred French, German and Russian companies from competing for $18.6 billion in contracts for the reconstruction of Iraq, saying it was acting to protect "the essential security interests of the United States."
The directive, issued Friday by Paul D. Wolfowitz, the deputy defense secretary, represents the most substantive retaliation to date by the Bush administration against American allies who opposed its decision to go to war in Iraq.
The administration had warned before the war that countries that did not join in an American-led coalition would not have a voice in decisions about the rebuilding of Iraq. But it had not previously made clear that companies in those countries would be excluded from competing for a share in the money for Iraq's reconstruction that the United States approved last month.
Those funds will pay for a total of 26 lucrative contracts for rebuilding Iraq's electricity, oil and water sectors and equipping its army.
------------------------------------------------------------------------
December 10, 2003
Six Afghan Children Killed in U.S. Attack
By THE ASSOCIATED PRESS
Filed at 2:44 a.m. ET
KABUL, Afghanistan (AP) -- Six children were killed during an assault by U.S. forces on a compound in eastern Afghanistan, a U.S. military spokesman said Wednesday, the second time in a week that civilians have died in action against Taliban and al-Qaida suspects.
The children died during an attack on Friday against a complex near the eastern city of Gardez where a renegade Afghan commander, Mullah Jalani, was believed to have stocked weapons, said Lt. Col. Bryan Hilferty.
"The next day we discovered the bodies of two adults and six children under a collapsed,'' he said. "We had no indication there were noncombatants'' in the compound.
Jalani was not at the site, 12 miles east of Gardez, but Hilferty said nine other people were arrested.
Hilferty said that U.S. warplanes and troops attacked the compound in a nighttime raid, setting off secondary explosions. The bodies were discovered the following day. They appeared to have been crushed by a falling wall, he said.
He expressed regret over the death of civilians in Afghanistan, but said it was impossible to completely eliminate such incidents.
"We try very hard not to kill anyone. We would prefer to capture the terrorists rather than kill them,'' Hilferty said. "But in this incident, if noncombatants surround themselves with thousands of weapons and hundreds of rounds of ammunition and howitzers and mortars in a compound known to be used by a terrorist we are not completely responsible for the consequences.''
Hilferty said he was not sure if the wall collapsed because of U.S. fire or the secondary explosions caused by weapons stored at the site. There was no word of U.S. casualties in the operation.
------------------------------------------------------------------------
December 10, 2003
High Payments to Halliburton for Fuel in Iraq
By DON VAN NATTA Jr.
he United States government is paying the Halliburton Company an average of $2.64 a gallon to import gasoline and other fuel to Iraq from Kuwait, more than twice what others are paying to truck in Kuwaiti fuel, government documents show.
Halliburton, which has the exclusive United States contract to import fuel into Iraq, subcontracts the work to a Kuwaiti firm, government officials said. But Halliburton gets 26 cents a gallon for its overhead and fee, according to documents from the Army Corps of Engineers.
The cost of the imported fuel first came to public attention in October when two senior Democrats in Congress criticized Halliburton, the huge Houston-based oil-field services company, for "inflating gasoline prices at a great cost to American taxpayers." At the time, it was estimated that Halliburton was charging the United States government and Iraq's oil-for-food program an average of about $1.60 a gallon for fuel available for 71 cents wholesale.
But a breakdown of fuel costs, contained in Army Corps documents recently provided to Democratic Congressional investigators and shared with The New York Times, shows that Halliburton is charging $2.64 for a gallon of fuel it imports from Kuwait and $1.24 per gallon for fuel from Turkey.
A spokeswoman for Halliburton, Wendy Hall, defended the company's pricing. "It is expensive to purchase, ship, and deliver fuel into a wartime situation, especially when you are limited by short-duration contracting," she said. She said the company's Kellogg Brown & Root unit, which administers the contract, must work in a "hazardous" and "hostile environment," and that its profit on the contract is small.
Posted by Sasha at December 10, 2003 03:33 AM | TrackBack