EL CRISPY'S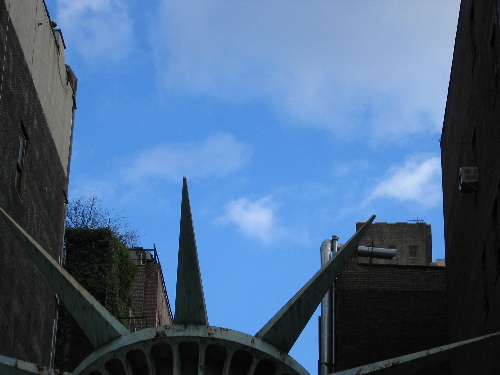 Interaction One:
10:11 AM, Wednesday:
I am walking up West Broadway, heading home. I am listening to Sonic Youth's "Silver Rocket." As the song busts apart in the middle and the bedsprings start playing the walls, I see a clump of fire rucks in front of what used to be El Teddy's, a Mexican restaurant and trendoid bar best known for what was on the roof (see above). The facade features a magical awning tricked out a la Gaudi with multi-colored tiles and bits of mirror. For a long time, there was a classic Canal Street hodgepodge of color and cheap electronics in the front window: dayglo wheels spinning before a mirror, bathed in black light and reflections from ambient light caught by the mirror.
Someone bought the building several years ago and announced he was turning it into a single-family dwelling. "When is El Teddy's actually closing?" became a constant neighborhood question. There was an abortive to make the place a landmark, but it turned out to be not old enough. (That's from memory, not Nexis.)
In the last few weeks, crews started gutting the place. At a moment I am sorry I missed, the Statue of Liberty crown was removed. And today, the roof, the roof was on fire. Someone did need some water, so the fire department did arrive to prevent the motherfucker from burning. The smoke was limited, at least from my vantage point. Neighbors watched from the fire escapes. Something I did not understand: A fireman on the roof (only about thirty feet up from the pavement) tied a rope to what looked like a bleach bottle, with the number 10 Sharpied on it, and threw it down to firefighters below. Someone caught it and put it down. And that was that.
I kept walking and on came Remarc's "Sound Murderer (Loafin' In Brockley mix)." That classic '94 sound—"Amen" breaks cut up and strung from every light fixture, some 808 kicks for a bassline and straight ragga yelling. That's all you need. But Remarc sprinkles some extra sugar on the hot-as-fuck griddle of the beat, and lets it crystallize and smoke: someone whistling "If I Were A Rich Man," strings from an old soul record. A bit more than the track needed and so welcome. I can't get enough of this moment in production. It sounds, as it always has, like a big orange Gerber daisy forcing its way up through the topsoil and punching you in the face on its way towards the sun.
Posted by Sasha at May 19, 2004 11:39 AM | TrackBack