THE CHAMPAGNE MAKES IT TASTE SO MUCH BETTER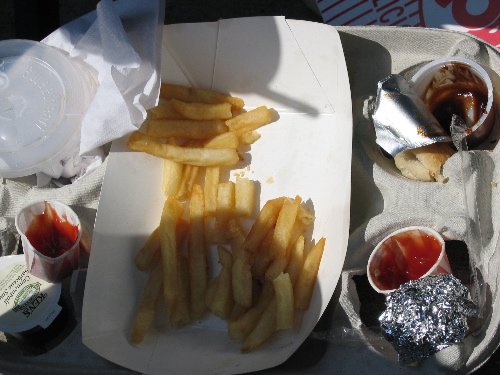 The State of the Music Business, Part 4080: Some guy in Paris has to tell me that the second best song on the Christina Milian album is only available on the British version of the CD. The song is "I Can Be That Woman" (Amazon mistakenly adds the word "Only" to the title) and it is easily 4.3 times better than "Dip It Low." Same guy reports: "As of now, it is my favoritest song in the world. It is exactly like if Daft Punk made a song for Chante Moore." I still prefer the Red Bull funque of "I Need More," but only time will tell.
In further Not Pushing Acts In America news, there is a new Rachel Stevens single. You know that she (and/or her svengali) has good taste, because she's gone from Cathy Dennis to Richard X as collaborator. Mr. x seems to have nicked a bit of Gary Glitter's "Rock 'n' Roll." This usually works, and "right now" is firmly contained within "usually." Video: very 1980s. Daisy Duke'd girls tromp through streets, watch their aggregate sexuality confound passersby, detourn wet T-shirt scenario with attractive non-Anglo guy.
For anyone sleeping, Cathy Dennis co-wrote "Can't Get You Out Of My Head" and "Toxic," as well as Stevens' first single "Sweet Dreams My LA Ex." Two words: Nobel Prize. But not just for the hired work. Dennis entered my consciousness with D Mob's "C'Mon And Get My Love", one of the best of a certain kind of hybrid dance single that was appearing in the dance shops just as hip-hop became the big news, the big business and the larger youth meme that would grab the US while house took the UK. When the expansion was complete, dance stores had undergone mitosis. Customers no longer had to rub up against unknown parties in search of their particular fix. That helped push along the trend known in branding shops as "wack monomind living." The gay disco scores reverted to their core custom, funk nerds started zines and eventually went online and hip-hoppers started their own sullen, narrow-minded niche shops to make absolutely sure that any fun or homoleaning vibes got crushed right out of the genre. But in 1989 and 1990, right on the edge of that plate shift, great singles kept coming out: Ruthjoy's "Don't Push It," Electribe 101's "Tell Me When The Fever Ended," Candy Flip's "Strawberry Fields Forever." Fuck's sake, a few were even on the radio. [Cue nostalgic whimpering.]
McFly's album enters at Number One in England, but we still say Maya Arulpragasam owns the 04.
Posted by Sasha at July 12, 2004 11:12 AM | TrackBack