DROPS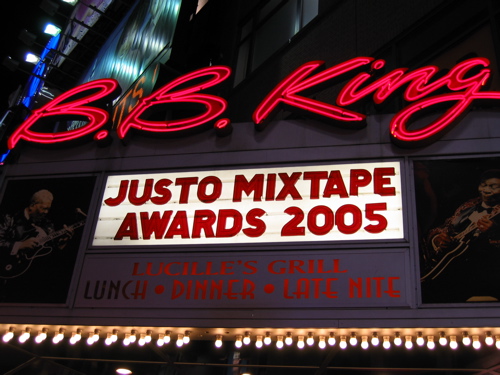 Last night was the next level of long-range vision enhancement gear. After the jump, DJ Vlad's kicks and Cuban Link's Jacob products (sorry for the crap photo on that one). We are more in love with hip-hop than ever, including the night Islam played The Birthday Tape.
[P.S.: Because blogs like this one right here are often totes (!) annoyingly locked inside their own slang and worldview, I have included a small definition of mixtapes at the beginning of the report. We can all get along and there is no shame in this game.]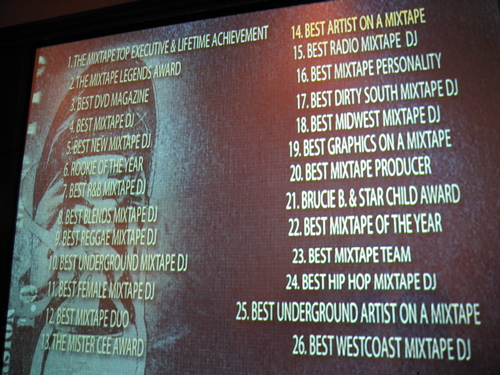 What the eff are the Mixtape Awards, and why didn't the CD I made for my girlfriend get nominated?
This is hip-hop, cousin. I cannot help you with the Belle & Sebastian vs. Decemberists tape you made. In fact, no one can. (But I will get a dub of that new live A Frames boot, if you're not too busy.)
Mixtapes—a term that represents the product's physical origin as a cassette tape, though mixtapes are now pressed and sold as CDs—circulate in a national circuit of DJs, m.c.s, online outlets and street vendors. The material on mixtapes tends to be either new songs donated to DJs by artists months before their official release, or the work of lesser-known m.c.s. rhyming over the well-known beats from other songs. This music is all glued together by "drops," the moments when the mixtape DJ yells his name and acknowledges his friends. None of this robust activity acknowledges the traditional legal obstacles of licensing or legal clearance: Mixtapes simply appear, over and over, making the major label hip-hop CD feel somewhat anticlimactic, like a brief Monday morning summary of cheerfully miasmic weekend (or awards ceremony).
Onwards:
By the relaxed standards of hip-hop events, the show went smoothly. Mishaps were few and impermanent, none of them life-threatening. Nominees carrying actual tickets for the event were sequestered behind a barricade in the cold for an hour, while an amoebic crush of "guests" claiming to be "on the list" tried to squeeze into the club. Scram Jones was on line behind me. DJ Kay Slay arrived wearing a leather cap and matching jacket both emblazoned with variously colored Louis Vuitton logos. As he walked into the club, unimpeded, someone cried out, "Kay Slay don't need no ticket!" which was apparently true.
A curious theatergoer headed for "The Lion King" asked what everyone was waiting for.
"The mixtape awards, son!" someone replied, though he was addressing a woman.
"What's a mixtape?" she asked.
"It's the truth, mommy, street truth," his friend added, helpfully.
"Sounds great," she said cheerfully, stepping over a blanket of flyers and posters for 50 Cent and Brooke Valentine.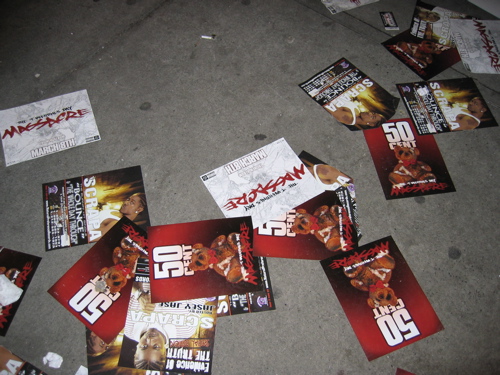 Justin Faison, 36, the man who started The Mixtape Awards in 1995, stood at the bottom of the stairs inside the club, greeting people, some salty, some calm. Justo did not look worried.
"Here's the two reasons why you can't make mixtapes corporate," Justo explained, as people filed into the main room of the club, plainly flouting Bloomberg's no smoking rule. "You can make mixtapes till you're blue in the face, but selling them is illegal. The other thing is that hip hop is meant to be like it is on mixtapes. How can I hear Jay-Z and Nas together on a song? Only on a mixtape, because if you got an instrumental and an acapella, you can make anybody be on anybody's record. You get to hear some of the things you would never get to hear in real life, the things that should be possible."
Ron G, a DJ who began releasing tapes in the 1980s, is widely credited with creating the "blend," a combination of the acapella vocal track from an R&B record with the instrumental beat of a hip-hop song, or vice versa. Years later, Sean "Puffy/P. Diddy/Sean John/Cardinal Richlieu" Combs used the "blend" method for releases on his Bad Boy label and secured his commercial reputation.
"Puff took what Ron was doing and made records out of it." said DJ Green Lantern, winner of the evening's 2005 Mixtape DJ of the Year award. "That's a known fact. It's all good."
After I found the VIP section, I sat down. It was too dark to read and I couldn't figure out who was a DJ and who wasn't. Along the nearest wall was a series of basketball jerseys, hung MSG-style, created to honor various DJ legends: Kay Slay (99), Doo Wop (10), Screw (13), Starchild (20), S&S (31), DJ Juice (7). After taking a totally useless picture (it didn't feel like a good moment to use the flash), I asked the enormous man sitting beside me if he was a DJ.
"No. I don't mind DJs," he said.
A woman with a huge pink afro wig sat at his table. Someone got on stage and said "Respect to my motherfucking nigga who was doing it when everyone else was watching Music Video Box—DJ scratch of EPMD and every motherfucking group."
I saw Buckshot and told him that I wore out my underwater bootleg cassette of Enta Da Stage while employed as a "desktop publisher" in the 1990s. We shook hands many times. I made the BB King fried catfish move, which was a regrettable look for me. Then I walked around and tried not to step on anyone's shoes. (I think I knocked over someone's drink, but I kept on stepping.) I found some actual DJs, including Teddy Ted of the Awesome Two, who handed me a business card, which makes clear that Ted is an on-air personality with Sirius. I did not know this.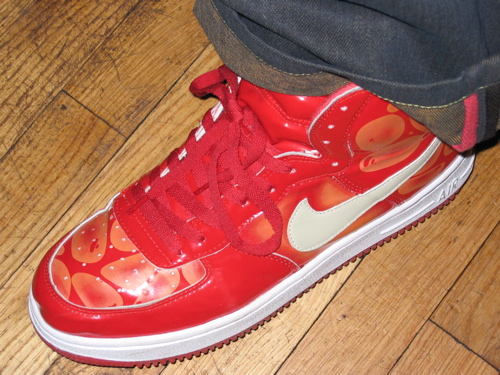 "Yo, if your shit is banging, it's gonna make it on my CD," said a very drunk man name J-Love, a DJ who has made several mixtapes featuring the work of various members of the Wu-Tang Clan, and has been a winner at the Mixtape Awards several times over the past five years. "If it's not banging, I'm not fucking with it. I don't play politics." J-Love is also a Sirius on-air personality, says his website.
"It's just the realest form of promotion" said Green Lantern, "because it deals with the streets and the people directly, with no marketing team involved, no label clearances and no lawyers. It's a great look."
The presentation began about an hour and a half late. DJ Jassy Jase played popular hip-hop songs of the moment like Amerie's "1 Thing." Frank Jigga, a local host of club nights, and Mad Linx, the host of the BET cable show Rap City, served as our hosts.
Mad Linx announced: "Seats are at a premium right now, so if you don't wanna stand up all night, you might want to plop your ass in a chair. Big up to all my people at the bar, what's good? Lovebug Starski in the house!"
We did a brief "I say B.I., you say G!" call and response for Biggie—March 9th and all—and Linx kept a sort of CNN crawl going when he espied a person he recognized: "Craig G and S&S in the house! Cuban Link, what up my nigga!"
Awards were presented in twenty-six categories, including best Midwest Mixtape DJ, Rookie of the Year, and Best DVD Magazine. One award, for Mixtape of the Year, was presented by a seminal 80s mixtape DJ named Silva Sir-fa (introduced as "the LES' finest") and a female m.c. from Newark, New Jersey, named Rah Digga.
"Let's present this joint right here," Silva Sir-fa said. "But it may be a little confusing, because it's confusing to me. This is the best mixtape of the year." The two presenters struggled through a list of names, which seemed to be both the only nominees and the only winners. "Big Mike, Green Lantern, and Jadakiss for 'The Champ Is Here'!" Rah Digga finally concluded.
Sway got up and said something about "the first black Jew, Pooky Goldstein." DJ OG Ron C won for Best Dirty South Mixtape and shouted out DJ Screw: "If it's slowed down, it's breaking records like it's supposed to be."
The awards themselves became increasingly surplus to the activity in the room. The main purpose of the evening appeared to be drinking Patron margaritas, shaking hands and exchanging business cards. Several awards were greeted with total silence, overwhelmed by the vigorous socializing in the room. Several brief performances by m.c.s received attenuated response; when the very same person left the stage, he was greeted by embraces and hand clasps. It was a very huggy evening.
The action eventually moved into an impromptu green room, off to the side of the main stage. I talked to Stat Quo about getting on Dexplicit's "Forward" rhythm.
"My man gets on the internet, and he gave it to me. Shit is crazy."
A man named Booz from a website I will not link to showed me a belt from "the Pum Pum Federation" of Brazil. He made a woman show me her breast, which didn't do my microcassette recorder, or me, any good. It was soon apparent dude was not nominated for anything and was only there to act like an assbrush and perpetrate.
I spoke for a while to Pitbull, who was sharp and focused. I didn't expect that, since M.I.A.M.I. felt kinda dull but I am thinking the next record might change his profile. (What am I, Billboard?) Pitbull said he got "Pow" directly from DJ Semtex. He dropped it with Lil Jon at a show in London and the audience, apparently, turned right into bangers and mash. Pitbull says he is going to make an official version of "Pow" for a US compilation, which will earn him this year's "Move Ya Body"/"Beware The Boys" Riddim Belt, a real thing with no physical presence (the inverse of Pum Pum belts).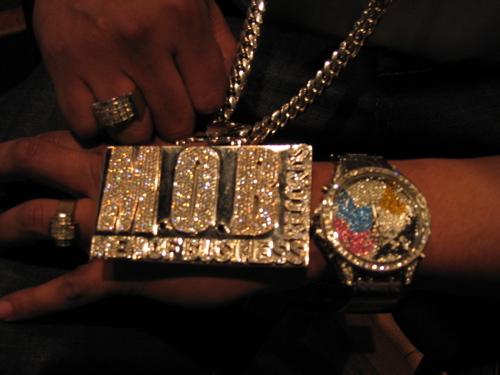 Cuban Link seemed really decent and it's sad to see him beefing, apparently pointlessly, with Pitbull. This is a very non-vegetarian moment. My reaction to the Game/50 beef squash was totally uncynical, which I didn't expect. I kind of got a little tingle. Fat lot of good that does me. It's impossible to tell how these fights start, just like the "who has more cereal" fight I hear every morning. And now I am hearing the Fat Joe/50 tracks back to back on Misery FM, Hot "Selling Your Pain Back To You In Digitally Coded Lumps, Which Happen To Blaze" 97. It feels like an English football season.
This is when several empirically, verifiably big entertainers swept through, including Mr. The Game, who had publicly ended the feud with 50 earlier in the day (a performance as convincing as Randy Johnson saying "I heart New York.") Mr. Game entered with a tightly packed escort of bright lights and raised microcassette recorders. A reporter tried to ask about the deal Game had made with 50 Cent.
"I don't make deals," The Game responded. "The devil makes deals. I'm just trying to feed my son."
Sean "82nd Largest Nation" Combs walked through, brandishing a champagne bottle, and surrounded by three industrious bodyguards who swept people and tables out of the way. He posed with his award for The Mixtape Top Executive and Lifetime Achievement for one of the eighteen people walking around with personal DV camera/floodlight combo packs. Looking haggard, DJ Green Lantern escaped up a small staircase nearby, and looked down on the crowd from a small balcony.
"I won four awards tonight—the Best Mixtape DJ of the year, the Best Mixtape Producer of the Year—for DJs who actually produce beats as well—the best Mixtape Duo award, for me and Big Mike, and one more, whcih I really forgot. I think maybe I won the first one twice. I'm gonna have to look at the plaques."
Posted by Sasha at March 10, 2005 12:09 PM | TrackBack