WHILE I WAIT FOR AN IMPORTANT MAN TO CALL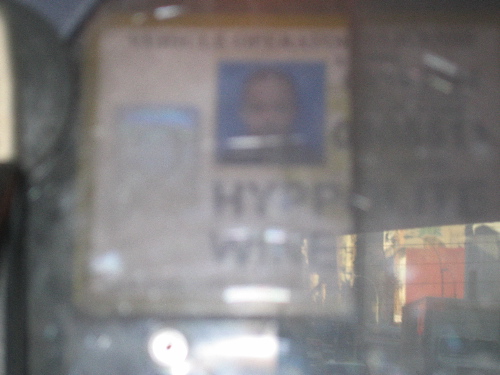 Jonah and his class performed a holiday sing-along this morning. The whole class sang "Mr. Goldfish," which Jonah wrote. "Mr. Goldfish went out one day. He didn't find a friend, but then he found a worm friend." (That's the whole thing.) I am fit to bust with pride.
I rode with a cab driver named Winer Hyppolite this morning. This name ranks with Iqbal Butt and Ahmad Butt. (The picture is terrible, but you can sorta see.)
Thanks to everyone who said nice things about the photos. To answer your questions: yes, no, October.
Last year, my mom gave me a gift certificate for one hour of Swedish massage at Eden Day Spa, but I didn't use it until yesterday. Holy crap, that is the new thing that I will do now when I can do things like that.
Posted by Sasha at December 16, 2003 03:57 PM | TrackBack