REBELLIOUS JUKEBOX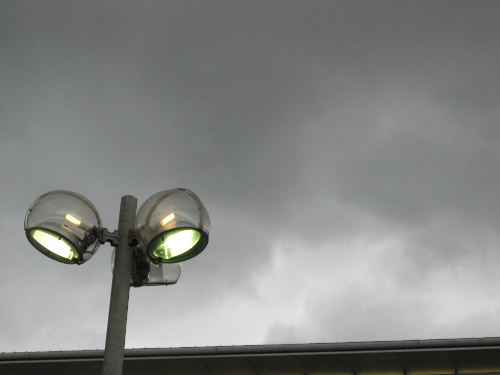 Other than pictures of rust and things painted yellow, I am not sure what you are hoping to find here. (You know, by now, that I don't have that N*lly video.) To help clear up this confusion, I have provided a menu. Choose an excerpt, let me know what it is, and I will then provide the related content, with the full acknowledgement that this self-selected sample of choices isn't a set of choices at all but an echo chamber I am asking you to kick.
1. A passage about Haitian torturer Constant transcribed from an interview with Edwidge Danticat in the new Louder Than Bombs anthology.
2. How I desparately want the evangelical tide of privatization (apparently not such a hot deal for those looking to sub-contract their abuse) to wipe out the CT DMV.
3. My observations on these recordings: Solar Disco Box Set, Ornette Coleman's Tone Dialing, and X's Under the Big Black Sun.
4. How I learned these two German words in Crete: "affe"—monkey and "gehirnerschütterung"—concussion.
5. A repetitive, manual habit I picked up in Crete.
6. The worst song ever: Nancy LaMott's "I'll Be There With You."
7. How, as digi visual culture (CGI, Flash art, Photoshop) grows, a parallel need for evidence of human persistence grows (reality TV, phone sex, etc.).
8. How I fell in love with the Fearless Four's "Rockin' It."
9. The experience of watching a drum machine fail at Big Black's show in the summer of 1987 at CBGB's.
10. My amazement that Thingy and/or Rob Crow are not ultra beeg.
11. The very excellent consistency of the Tubes 2003 compilation.
12. How completely badass Sarah Jones's Bridge and Tunnel is.
13. Eddie Kendricks' retardedly beautiful second album, People...Hold On.
14. Seeing The Thermals open for Sleater-Kinney at Irving Plaza a week or so ago.
15. Summer 1980: Working at the Eagle Printing plant in East Orange, NJ, eating the best cheeseburger of all time and listening obsessively to David Bowie's Scary Monsters.
16. The beauty of the singjay style: Clint Eastwood, Trinity, Dillinger, Big Youth. Raising up on the first two beats, hammering home, then coming back up, sing-a-ling.
17. Circumstantial evidence from personal experience that leads me to believe that, absent the threat of public censure or economic disincentive, a certain class of people will act like assholes and another will behave responsibly.
18. [Related submotif: The motherfucking Harvard Law School students who stole my records seven years ago.]
19. Hydrocod**e vs Amb**n and Val**m.
20. Flamenco genius Maria Pages, the importance of rules, bullfighting and digital reverb.
21. How liquidy was a live performance by Piotr Anderszewski.
Posted by Sasha at May 9, 2004 09:51 AM | TrackBack