NOVEMBER 22, 2005, MADISON SQUARE GARDEN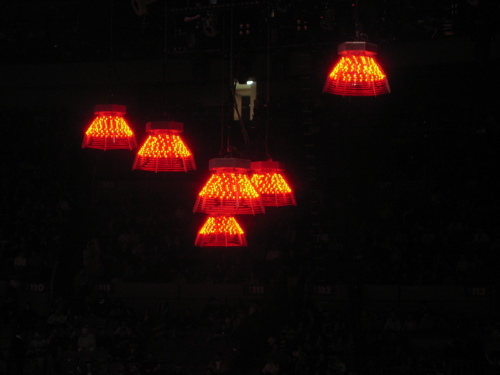 French fry heat lamps? Tony living room fixtures supersized for hockey games? Red, at least, in sync with latest album color scheme.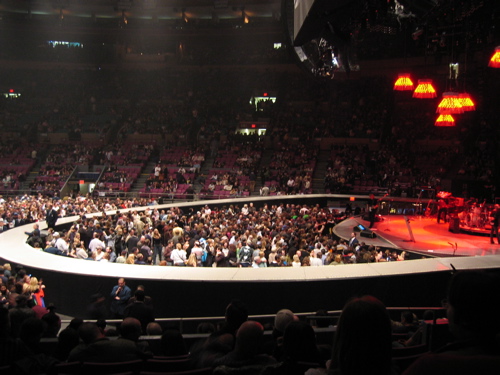 An inner circle, literally.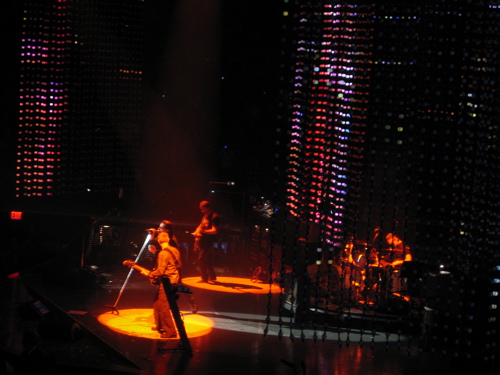 It begins. The band, working the archetype from go, every song a finale. Hard not to be pumped, even amidst higher brain warnings. Perhaps something like combat.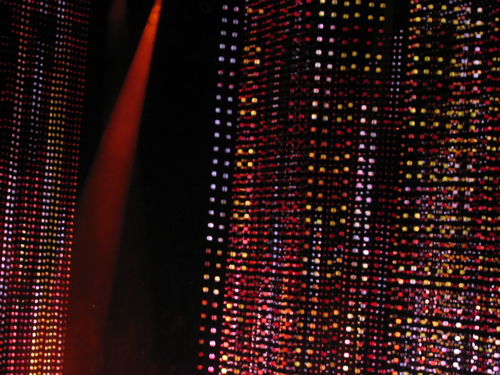 Videos projected on lovely pendant chains of reflective circles: denotative images if you strain; connotative twinkles if you're preoccupied with the raising of arms and singing along with non-specific humanist yodeling.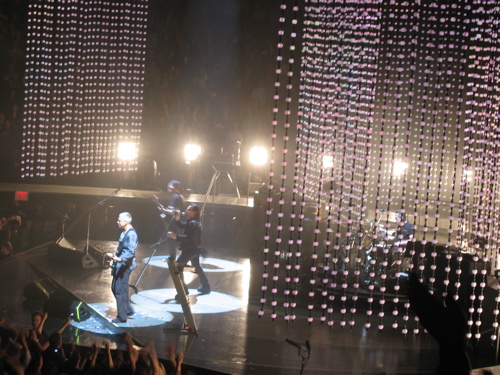 The Mezzanine of Blinding Lights.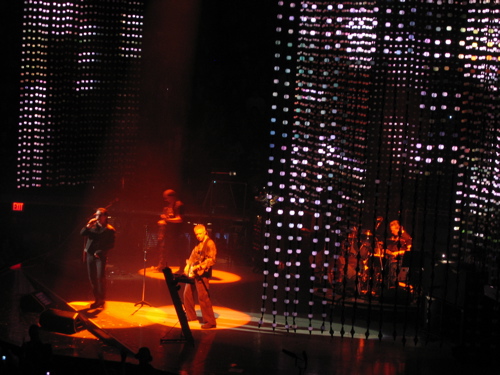 The Edge's guitar parts are reduced, at the level of writing, but inflated on delivery, by volume and digital delay. Brilliant trick, but wearing on the ears after five songs.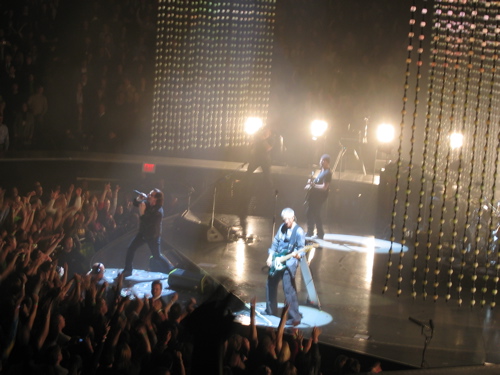 We are watching a band that has been together for twenty-seven years, having undergone no personnel changes, and getting the loudest approval for new songs: new singles. Opine as it suits you, but this is not only no mean feat—I have thought for weeks and can't come up with analogous numbers for anyone else.
[PARALLEL, REAL-TIME COMMENTARY: Kenny Chesney's "Keg In The Closet" tells the story of someone who tries, unsuccessfully, to duplicate Dubya's college years.
"No real problems we needed to drown / but we'd try our best anyway. / We went to class just to pass the time."
Then:
"For a while we had it all. / We never dreamed it wouldn't last. / We went to class just to pass the time."
Was the impermance of college surprising because a) the subject assumed that he had signed up for a 45-year-long baccalaureate? or b) because the sinecure he expected upon graduation did not pan out?]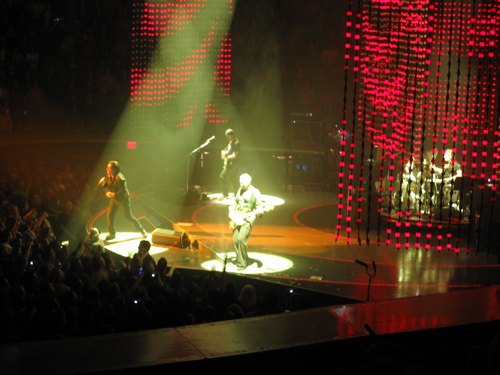 The red waves were my favorite backdrop. But the coolest shit—within the clearly established paradigm of very cool shit—was this shit: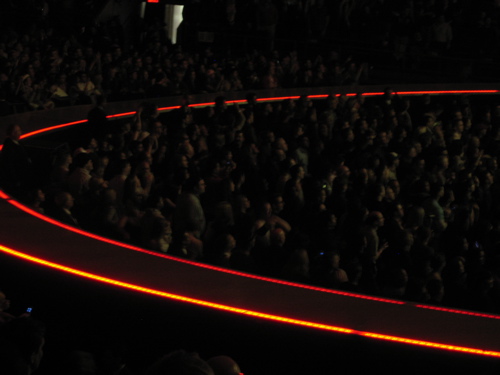 The lights dimmed almost to black, and it was revealed that the inside and outside circumferences of the inner oval stage path were rigged with red lights that zoomed around sequentially in a totally wicked fashion. U2 could have been playing "My Humps" and it would have given me chills. Seeing this show in the Garden only drives home similarities between arena rock and the circus. You are hoping something ridiculous and huge will happen. And it does. Vertigo!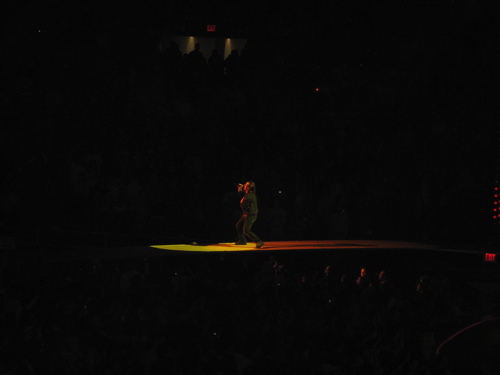 Bro went searching.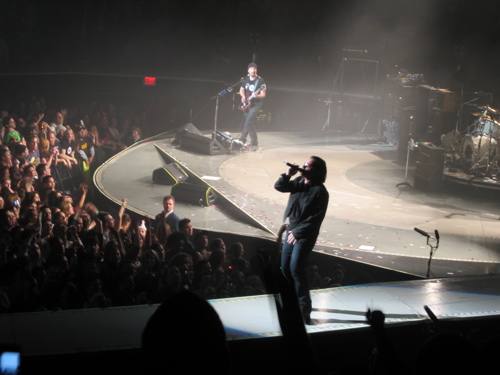 Broseph closed in.
"Was he always fat?"
"I can't tell with those glasses."
"He's wearing them, not you."
"I know, but they're distracting."
"He doesn't even have them on now."
[ANOTHER NBOX INTERRUPTION: Another Bushist take on college—Phil Vassar's "Carlene." A dude who can't even sing as well as Eddie Money needs better songs and less noxious themes than a "little Miss 4.0" with a Ph.D, who has an inexplicable need to model for cash.]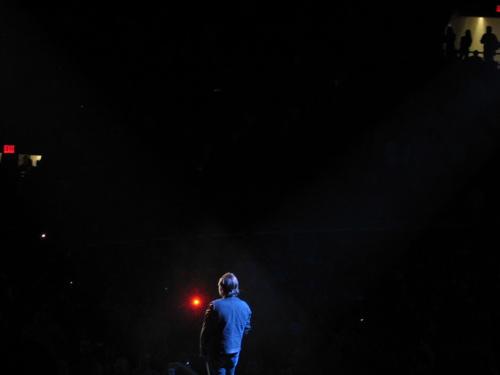 "Jew! Jesus! Mohammed!"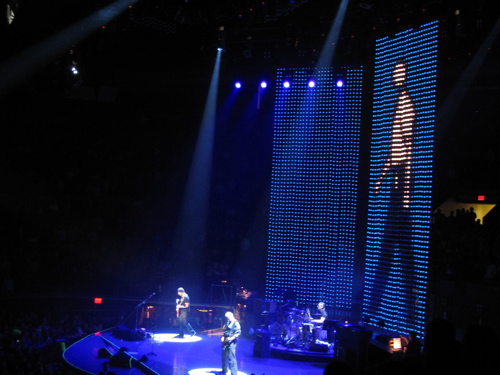 You can see the same electronic art, rendered smaller and in monochrome orange and black, on either side of the Chambers Street entrance to City Hall. Julian Opie, what.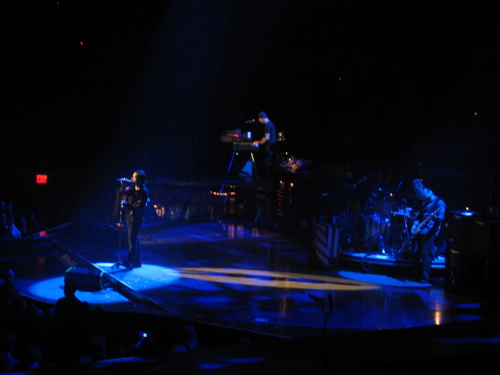 The Songs That Are Not As Good As The Songs That Sound Like U2 Section (a.k.a. The Reggae Ballads) begins.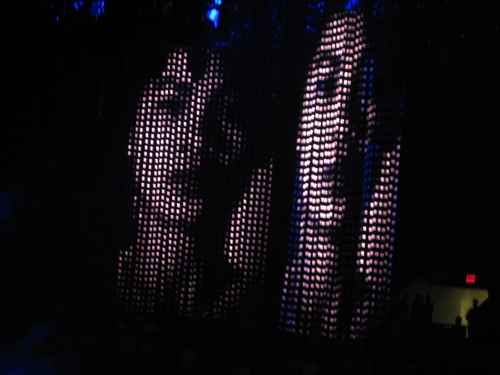 Projection of woman reading excerpt from the Geneva Convention. Huge, genuinely thrilling cheer goes up when section about "degrading treatment" comes around. Even the doubter give Bono an imaginary hug. Appropriate use of a stadium.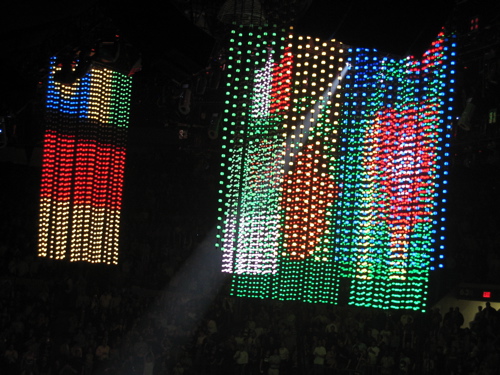 Many flags = "This applies to everyone."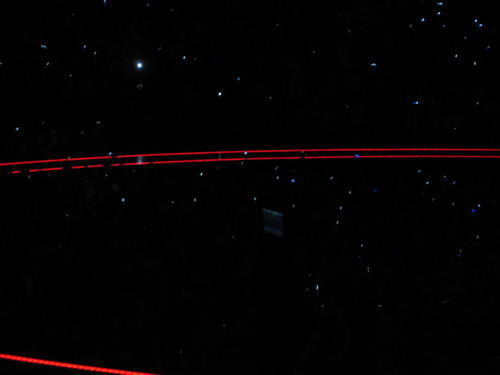 Posted by Sasha at December 12, 2005 05:53 AM | TrackBack