NYC CIRCULAR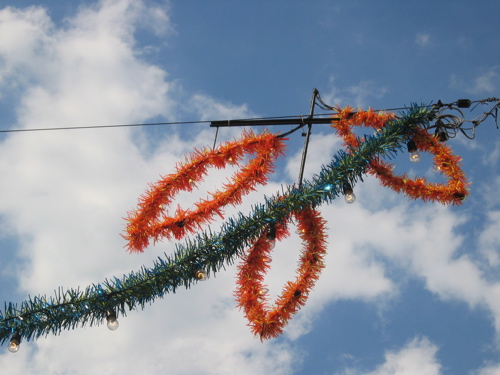 Man who will give you an excellent haircut for ten dollars: Wally at Ray's Barber Shop, corner of Chambers and West Broadway.
Small restaurant that does not play bad music and serves many good things, including the best fruit salad in New York and a godly concoction called avocado toast: Café Gitane.
Larger restaurant that serves dozens of great vegetarian dishes, including green tea noodles in a vegetarian bolognese sauce: Gobo on Sixth Avenue and Eighth Street. (Caveat: Though the restaurant bills itself as "food for the five senses," the tables are placed quite close together and the room is high-ceilinged and boxy. If you are not plunked right into the middle of your neighbor's conversation, the combined noise of the piped-in music and the juicer will be unkind to at least one of your senses.)
Place to sit, drink tea and wonder what you should do next: Casablanca Tea Room. Friendly staff, pretty insides.
Best spot for fresh juices (try apple and ginger combined), falafel and hummus: Pita City Falafel.
Your kölsch options in New York (unless you have a supersonic jet and go to Cologne every few minutes): Some delis carry Gaffel, others carry Reissdorf. Sadly, the excellent Otheroom on Perry Street no longer offers kölsch on tap. You can get fresh kölsch at The Ginger Man on 36th Street.
Slightly terrifying but addictive Japanese snack that will make you enormously fat, instantly: Beard Papa's.
Man who will attach a watch band when you cannot find the tiny and very specific tool that would enable you to do it yourself: David's Shoe & Watch Repair at 460 Hudson Street, right below Grove Street. The telephone number is 646.486.2680.
Best class trip for third graders, as long as you have a warm sweater: The Clearwater sloop, founded by Pete Seeger and others in 1969. Very large sail, attached to an equally large mast.
Only New Yorker insane enough to say Jay-Z looks like "Joe Camel" in public: Cameron Giles.
Posted by Sasha at May 16, 2006 04:33 PM | TrackBack