THIS WEEK IN GIGS (JOAN DIDION)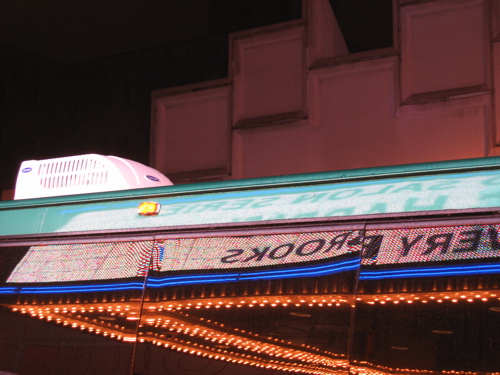 Tuesday night, I paid one hundred dollars to go to The Paris Review Spring Revel. I did this because I thought Joan Didion was going to show up. (She did.)
The event was held in the Grand Ballroom of Gotham Hall. The hoi polloi (we hundred dollar-billers) were allowed to stand one flight up on a mezzanine, drink "free" drinks and watch Norman Mailer eat dinner forty feet below us. His two-cane style is still unfadeable, and he rolls with tall, beautiful women who body-tackle those who seek to block his egress. (His ears will sweep away any remaining gawkers.) Norman's mojo is operational.
There may have been many famous people in attendance but, if so, they were famous writers and nobody knows what they look like. (I think Ahmet Ertegun—not a writer—was there, but I cannot be sure. A man will try to bite Ahmet's style as he ages, he will.)
A woman asked me if I knew of any good new music. For example, music with "charisma." I offered the Yeah Yeah Yeahs, but she told me she had already heard of them. I tried to narrow the field.
"What was the last CD you bought?" I asked.
"The Bee Gees' Greatest Hits," she said.
"Oh. So you like that."
"No," she said.
Hungry March Band opened the festivities, marching around the perimeter of the ballroom and then mounting the stage. The band contained about twenty people, including a baton-twirler and several dancers. The whole bacchanal suited the room. It sounded like "reveling." Their music bore little relation to Didion or her work, not that it mattered. No music comes to mind when I think of Didion. Not even the Bee Gees.
Bob Balaban introduced the readers. Gotham Hall is a former bank, and made largely of various kinds of stone, and the Grand Ballroom is enormously round, wide and high-ceilinged. Because of the stone and its size, the Grand Ballroom causes sound to reflect and hang in the air for ages, especially amplified speech. This made it hard to hear Mr. Bob Balaban, a situation not aided by an intern who was whisper-hollering about his short story problems. (Why would you pay one hundred dollars to talk to somebody you see at work? This is a question I cannot answer. You may want to ask a similar question about the wisdom of paying one hundred dollars to get a glimpse of a tiny writer, but that is life.)
Eric Bogosian read from "The White Album," Hope Davis read from "Slouching Towards Bethlehem," Jessica Lange read from "The Year of Magical Thinking," Calvin Trillin read from "Where I Was From" and somebody else read from something else. Bob Silvers got up and explained the "hadada," which is the name of the bird seen on the cover of The Paris Review, and of the prize awarded to "people who have made exceptional contributions to the state of literature." (From memory, not an exact quote. There is a more reliable description of the prize here.)
Then Didion got up, to a standing O. Her hair is silvery, and she is still as tiny as she has always been described as being. Unlike anyone else who spoke, she was funny. She told a story of The Paris Review offices being locked at night, meaning that laggards had to climb out the window and dangle from the sill by their fingertips. This was harder on the shorter staff members, she noted. She also noted that she wanted to be one of those shorter staffers, because The Paris Review sounded like more fun than Vogue, where she then worked. I am not sure why The Paris Review would have been more fun than Vogue, beyond the jumping out of windows. I was totally excited to be actually seeing the actual Didion, even though she spoke for about 200 seconds. Then she sat down and that was that.
I saw Jessica Lange and Sam Shephard downstairs, afterwards. They should donate some of their good-lookingness to charity because they are fucking up the whole curve just by walking around and being bodacious. Maybe when Keith Richards falls down, God foxies each of them up a little more.
Here is an interview with Joan Didion, originally published in The Paris Review, 1978. (Link boosted from Jessica.)

Posted by Sasha at May 4, 2006 11:37 AM | TrackBack