THIS WEEK IN GIGS (YEAH YEAH YEAHS)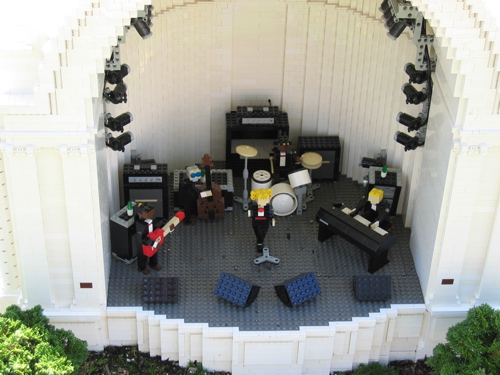 Wednesday night, I saw the Yeah Yeah Yeahs at Roseland. (I missed a chunk of the set, which I regret, and walked in on "Warrior," only a song or two before the encore.) Karen looked tony and yogic, like she is rocking strictly tempeh. No flying beer. She hopped, repeatedly, and was comfortable commanding the stage. It felt like that Mountain Goats show at Knitting Factory last year, when Darnielle and the audience both realized that the moment was NOW.
Karen's first outfit was, roughly, a two-piece silver bathing suit, worn with fishnets and shoes inside silver plastic bags. She returned for the encore with MORE clothing on, an inversion of the standard Sexy Woman On Stage Routine that I enjoyed. Her more clothing was very more: a friend described it as something that either George Clinton or David Bowie could wear. But Karen did. Here is an attempt at describing it: A brindled grey diving suit painted to resemble a red and white skeleton. There was a hood on the suit (slipped on only twice) and the whole thing was covered with furry tentacles. (Here are pictures from the band's April 23rd show. The outfit doesn't look grey here.)
"Maps" was done acoustically, no drums. I missed the long, long opening drone. But I always like Karen's shout-outs to Brian's and Nick's squeezes.
Posted by Sasha at May 5, 2006 10:10 AM | TrackBack