BAT MAN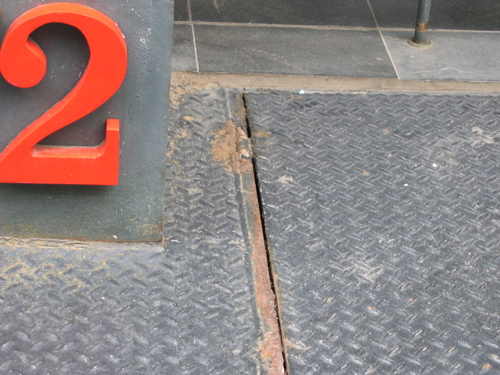 After the jump, you will find a brief piece on Meat Loaf. It was written last summer for Talk Of The Town. Meat Loaf and I met on a day in June or July of 2006. (I will look up the date and eliminate that vagueness.)
Meat Loaf has a problem with names, but being called Meat Loaf is not one of them. "I've been called Meat since I was nine months old," the singer and actor said recently at a diner on Fifty-Fourth Street. "Teachers in school called me that. It's not like a stage name. My original birth certificate said Marvin Lee Aday. There was a commercial when I was a kid that said 'Poor, fat Marvin can't wear Levi's.' It upset me to no end. If somebody called me up on the phone and asked for 'Marvin,' I would tell him them he wasn't there. "
Mr. Loaf was in town to promote the Halloween 2006 release of his new album, "Bat Out of Hell III: The Beast Is Loose." With a day off, Loaf decided to catch a showing of "Pirates of the Caribbean II" at the Ziegfeld. Partly due to the sun, and partly because he had scratched his cornea two nights before at a performance in New Jersey, Loaf wore rimless Rayban sunglasses, which he removed when he spoke. ("It might have been a bit of ash from the fireworks. The doctors couldn't figure it out, but they're sure the cornea is scratched.")
Roughly as stocky as he was in 1978, Loaf wore a black Nat Nast vintage shirt with white stitching, white vents and an embroidered red image of a Velocette motorcycle spread across its back. Loaf walked into the coffee shop with a left-leaning limp, wearing black leather sneakers closed with Velcro straps. Even without the lack of ruffled tuxedo shirt, and sporting a line of grey stubble, Loaf looked much like the sweaty, operatic singer who released the first "Bat Out of Hell" in 1978, recently voted the number one guilty pleasure of all time in the British music magazine, Q.
After a sparsely attended Sunday morning showing of "Pirates," Loaf settled into an outdoors table at Rue 57 restaurant on the corner of 57th Street and Sixth Avenue, where he did not eat. ("I had popcorn," he explained.) He called Johnny Depp's performance as Jack Sparrow "amazing" and imagined how he might fit into "Pirates III."
"I would be just one of the new recruit pirates. I wouldn't want to be one of the creepy barnacle guys. The hammerhead shark guy is pretty good, though, 'cause they gave him a real identity. The others, they don't really have an identity. They're kind of all…barnacly."
The first "Bat Out of Hell" has sold fourteen million copies in the U.S. alone, making it one of the biggest selling albums of all time. Many people remember "Bat" because of the song "Paradise By The Dashboard Lights," in which Meat Loaf tries, for eight and a half minutes, to get to third base with singer Ellen Foley. Phil Rizzuto narrated the singer's progress in the manner of his day job as the Yankees announcer—"Here's the throw, here's the play at the plate. Holy cow, I think he's gonna make it!"—prompting Foley to sing the most famous "stop right there" in the history of pop.
"Casey Kasem used to write a little newsletter that went with his American Top 40 show. It said 'Paradise by the Dashboard Lights' has reached thirty-nine. Let's get this kind of trash out of the top forty.'"
Other than Marvin, the name he's had most trouble with is the title of his life's major work. The songs for "Bat Out of Hell" and its easily found sequel—"Bat Out of Hell II," released in 1992—were written entirely by Jim Steinman. Several years ago, Meat Loaf sued Steinman for trademarking the phrase "Bat Out of Hell." Loaf has now dropped the suit, and the bats have been liberated. (Steinman wrote only seven of the songs on "III," including "It's All Coming Back To Me Now," written originally for "Bat Out of Hell II." The song remained unrecorded until Celine Dion chose to open her 1996 album "Falling Into You" with her own version.) Meat Loaf will perform songs from all three "Bats" in a one night performance on November 2 at New York's Palace Theater.
Though history will remember Loaf largely for "Bat," he has spent the bulk of his career working as an actor, often in musical theater. After his mother's death in 1966, Meat Loaf left his home in Dallas and moved to Michigan and California with a rock band that went through several incarnations: Popcorn Blizzard, Meat Loaf Soul and Floating Circus. ("The organ player dressed like a swan, the bass player dressed like an Indian, the drummer dressed like a clown and I dressed like the ring master. You couldn't really get a ringmaster costume, so I just went out in a tuxedo and bare-footed.") In 1969, Meat Loaf moved to New York to join the cast of the Broadway musical "Hair." After "Hair" he appeared in a production of "Rocky Horror" at the Roxy in Los Angeles, and then went to England to film the movie version.
"They paid me $17,000 to do the movie, and then I won twenty-three thousand pounds at the Playboy club. I decided I would sit there and play around in London. When I finally came back to L.A., I went to the Roxy, and someone said 'Yeah, this director's been trying to reach you. His name is Milos Forman and he's doing this movie called 'One Flew Over The Cuckoo's Nest.' This is, like, 10:30 at night. At about midnight, I called him. He's got that accent and he says, 'Oh, I'm very sorry, oh, no.' They had hired Brad Dourif at four o'clock that afternoon. It wasn't meant to happen. If I had done 'Cuckoo's Nest,' I would have never done 'Bat Out of Hell.'"
Meat Loaf appeared in the independent movies "Focus" (2001) and "Crazy In Alabama" (1999), played Amiens in "As You Like It" at the Delacorte in Central Park ("I'd love to do Falstaff," he says) but is probably best known for his performance in the 1999 film "Fight Club" as Robert "Bob" Paulson, a testicular cancer support group member. Already a hefty man, Meat Loaf wore a fat suit—referred to in some reviews as "man tits"—for the role.
"That weighed forty pounds—unbelievably heavy. It was made out of flax seeds. Fincher needed it for the movement to look real. They built a special seat for me to sit in, and a metal harness that the suit laid on. When we were into the movie about two and a half months, Fincher ordered them to put up a styrofoam suit when he didn't need the movement. But we didn't wear that that much."
In November, he will appear in an installment of Showtime's Masters of Horror series, in a film called "Pelts" directed by Italian schlock horror auteur Dario Argento.
"I didn't know who Dario Argento was. I don't watch horror movies. My youngest daughter Amanda heard about it and flipped. She said 'Dad, you've gotta do this, you've gotta do this.' I wasn't gonna do it until she told me I had to do it."
"My character is a dealer in low quality furs," Meat Loaf continued. "I do, according to them, make horror history. I skin myself alive. It was disgusting just doing it. I can't imagine watching it. We only did one take. I was in such a state when it was over, I couldn't even talk."
Whatever nightmares fur may now engender, poor, fat Marvin no longer haunts Meat Loaf. In 1986, well into his career, the actor purged himself.
"I went to a judge in Westport, Connecticut, to change my name. The judge asked me 'Is it because you owe people credit? Do you have warrants?' I said 'No,' and he said 'Well, then, why are you doing this?' So I told him the story of the Levi's commercial. And he looked at me and he said 'Are you joking?' I said 'No.' He said 'That's the most horrifying thing I've ever heard. They would never get away with that today. That's discriminatory.' He took out the seal, stamped it, and said 'See you later, Michael.' I'm not that crazy over Michael, but it's better than Marvin."
Posted by Sasha at August 3, 2007 01:50 PM | TrackBack