chez oskar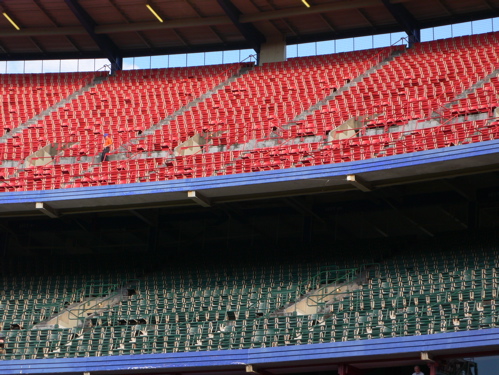 (In attendance: Alissa, Peter, Molly.)
The Glamastrator: turning fashion into sports, one neologism at a time.
Mickey Rourke: "I talk about dogs. I will win."
Josh Brolin and Diane Lane: very hard to be a hater.
Jessica Biel: "Yes, I am holding the iPhone within range of the camera. Yes. Can I put it away now and get on my Sidekick? Please?"
"How many women don't have big hair?"
Tilda: never staying hominid.
Kate: "I am on a magazine cover? I'm so down to earth that I don't really notice such things."
Why did Jessica Biel attach a dress to her dress?
Switching to the channel with Tim Gunn. Kate Winslet is not as of-the people this time, not so forgetting of her magazine covers. Good. (She is thirty-three, really? We were on a school tour together once, as parents: true.)
"Guys like Amy Adams because she looks like someone who would have given really good blowjobs in 1987."
Valentino: shellacked.
Danny Boyle: "We are totally willing to accept the Oscar now."
If Eva Green walks down the runway, game is over, forever.
"Ooh, Meryl and daughter, category of beige."
Seth Rogen, trying to be thin. You're gonna eff up the brand.
I don't think I've seen a single nominated movie other than "Milk."
I WONDER IF HEATH LEDGER IS GOING TO WIN.
All you need to know about Benjamin Button is right here (click).
OK—the opening number did it, Hugh. Can't deny it.
The New York Yankees of acting ladies.
This is genuinely unexpected. Everybody gets a super-special intro. How can you feel bad?
"That's Erica Jong's rack."
I don't even care what movie Penelope was in. (But I actually saw this one—so two movies.)
PEDRO.
"He is a gay Mormon? Someone IMDB this."
You didn't stand up for that speech? Losers.
"Slumdog" tip-off. Here it comes. (No, didn't see it. Just hearing the roar around me.)
Jack Black makes joke that only the audience thinks is edgy.
WAAAAAAAAAAALLL-EEEEEEEEE.
Thank you to "the house"? That was too multicultural.
Daniel Craig both more manlike and prettier than SJP.
"This set: 'This Old House' + summer stock + deconstructed container store."
Can I just call Nate Silver and ask him who's gonna win? I am sleepy.
MONTAGE. PEE BREAK. WAIT—COLDPLAY MONTAGE. OH I AM BREAKING UP WITH YOU, OSCARS. (Impossible, technically.)
Really losing focus. We need to stretch. Cold water. Something.
"He has a baby tiger in his handkerchief pocket."
LEAVE THOMAS EDISON ALONE.
Are we not doing the Best Songs? That would be awesome.
Janus Kaminski! This works!
There's a host?
"Who's better-looking? Rupert Everett or Hugh Jackman?" "Beyoncé."
This is too mash-uppy. Everyone is talking, too. I want a bath.
All the haters who think B can't sing really need to show me some evidence. This is live TV, and she DESTROYED IT.
"Medleys are like Midori sours."
Alan Arkin—I will always love you.
Don't they have to do a Newman tribute?
Heath winning is not bad, no matter how overdetermined it is.
What wonderful industry would that be?
[Redacted.]
Is that suit ALL made of leather?
"Man On Wire"! YAY. I thought Herzog would get a pity screw. WHOA. PETIT!
PHILIPPE PETIT JUST WON THE NIGHT.
Grown ladies with a conscience, holler!
WUT. IRON MAN WUZ ROBBED. C.A.D. PORN.
WALL-E WUZ REALLY ROBBED. THE FIRST HALF HOUR WAS ALL SOUND EDITING. DARK KNIGHT WAS LOUD.
"Slumdog" tidal wave begins.
Impossible to hate on Jerry for doing his thing, a lifetime before the Brangelinas.
A.R. Rahman—whatever the reason, he so so so so deserves this.
"I thought 'Lion King" came out ages ago."
She's singing right over Maya's vocal.
"Oh, Asians, they control Hollywood."
If they end with Heath instead of Paul Newman, I am WILDING.
I am sorry, Newman and Pollack merited their own sequences.
Did Danny Boyle just big up THE OSCARS THEMSELVES? Get the cock out of your mouth, damn.
They didn't stand up for gay rights, but they stood up for actresses?
SOPHIA LOREN: ALL YOUR HANDS ON HIP ARE BELONG TO ME.
[Sad trombone.]
Mickey, "Slumdog," CAB!
Kate, you did not run to the Oscars from Arizona. STOP HUFFING AND PUFFING.
WHOA. SEAN! WHOOOO!
"The gays control Hollywood." "Shut up!"
"An elegant man." RIGHT ON.
"Spielberg! When he makes science-fiction films, they're political. When he makes political movies, they're science fiction."
Night!