"MEMPH--ONE SUGAR, TWO CREAMS, OK? TRY TO GET IT RIGHT, OK?"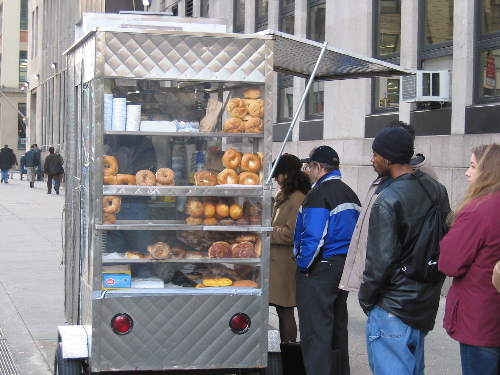 My Friend Put Me On, Subsection: Warring Employers:
Hip-hop guys like to be unpleasant and "shoot" people and record revolting sex skits. If "skills" are "in effect" and the beats are "dope," I can be distracted. (Luckily for Rap-A-Lot records, self-delusion must have clinical efficacy only for the length of the song in question. [Has anyone pointed out that fancy-pants organic nuts and berries hip-hop doesn't violate the four-minute song rule any more often than mersh hip-hop does? I mean, thank God. Who the fuck would want 20 minutes of Blackalicious? It isn't gonna be like Joe Budden doing "10 Mins," is it? Oh, God, a little hobbit is gonna email me now about some "great" 15-minute Mikah-9 answering machine message. Argh. Bracket?] Paren?)
The following people cannot distract us from their ghastly and stupid subject matter: The Bravehearts' new album, We Can Make You Nostalgic For Mel Gibson, is listenable only for the few minutes when producers Jungle and L.E.S. sample the Jungle Brothers' "The Promo," which The Bravetards still manage to ruin. There is a skit involving both forced sex and gunplay which would be vile if it wasn't so badly written and recorded. For all I know, The Braidedfarts are making sandwiches and using a nail gun improperly in the skit. I can only hope. "B Train" is OK because the beat is a passable "Grindin'" imitation and the song is over quickly. (I am entering "Intro" as the worst intro ever in hip-hop history.)
The Bravehearts are lapped only by the Young Gunz in the sexual violence Olympics. Since they're all still teenagers, this says something super-fucked about the current cultural waterline. Not new, just worse.
Memphis Bleek comes off slightly better on his new straight-to-dollar-bin album, My Name Is Unbelievably Stupid, because his boss is nice enough to rap on his dumb records ("I advance myself and pay myself back/Huh, you gotta love that") and Armadale Vodka makes enough profit to pay for Just Blaze's mortgage. Probably terrified that Kanye West will get all of his gigs, Blaze raps on the album's best track, "Just Blaze, Bleek and Free." It helps to be friends with Freeway, who improves anything he gets near with his magical mouth. Jay's "Murder Marcyville" reappears here as "Murda Murda" with Memphis re-rapping..the...hook (sorry, nodded off) and a new little keyb hook, though the beat remains the same.
And in the third corner of our cube, the Bobby Digital presents Northstar. For Corpo Paymasters, the sticker "Bobby Digital Presents" ranks just below "Contains Traces of Lead and Phen Phen" in commercial appeal. Silly corporate clowns can't recognize the real! After his decent 2003 album, Birth of A Prince, RZA has blessed us with a CD worth the $3.99 Kim's will charge for each of the 18 copies sitting in the Used section. Words you did not expect to read: Armand Van Helden produced two of the tracks. Four tracks produced by RZA, two by Mathematics and one by DR Period. The reason to buy the record, which sucks, is "Duckie," a nice throwback produced by Mathematics. I actually hate this record, too, but it felt like the rhetorical moment to shift gears. Just go to Fluxblog and download "Duckie," because these cockhammers don't really need to be encouraged. Somewhere, an auto body shop is waiting for two new employees.
The Bleek probably has four or five decent tunes, all told. I suppose that's "blazing" in 2004 math.
Breaking news: go run and get the soundtrack from Barbershop 2, rip Sleepy Brown and Outkast's "I Can't Wait" and the retardedly great remix of Mya's "Fallen" and listen to them endlessly. The Floetry and Mos Def song is pretty good, too. Other than that, you get a good Clipse beat with a bad Clipse rhyme, terrible G-Unit and a song by D-12, which is code for "Put This CD Down and Walk Away." Sounds like more d/l action for you and your soulseeking, acquisitive self.
Inspirational verse: Andre 3000: "I'm in the Southern states, you know, where all the pimps be dressing all boogie and carrying ugly cups./And yes, you're getting booed if your shit do not get down/and yes, you're getting sued by women who didn't get up out they seat on the bus/and feet shouldn't rust, and beat is a must and we shouldn't lust but we do./I'm laughing at the calendars and clocks,/ascot to match the socks./What's in your speakerbox?/(Pink and blue.)/You're lollygagging, you're slow-poking,/you got me open,/your'e playing with me./Darling, I''m not a toy./As if Anita Baker brings the joy, you're kinda the Tyner, meaning the real McCoy./I can't wait."
Posted by Sasha at February 3, 2004 02:43 PM | TrackBack