THE GREATEST RESTAURANT OF ALL TIME?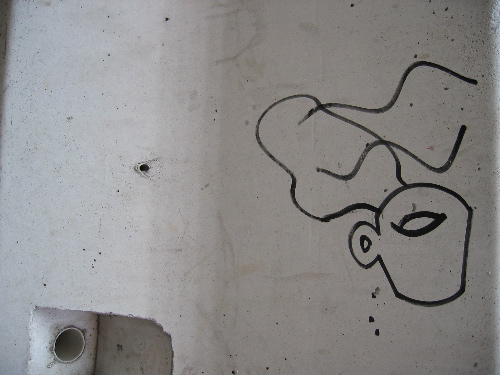 Just back from Shopsin's General Store with a pocketful of "stolen" candy. (Customers are encouraged to "steal" candy from bins near the door on the way out.) It was my first visit since the shop moved. The new place on Carmine & Bedford isn't quite as packed with detritus and bad vibes as the old location on Bedford & Morton, but it's running on the same rails. Still a family affair: Kenny's daughter was my waitress and some unidentified siblings and grandkids (I think) were wandering about asking for spoons. The place is clean enough to look like the work of normal people but the gewgaws are accumulating nicely along the walls and shelving. The Miss Havisham-via-Sears vibe should be re-established in a year or so.
Kenny yelled at one couple that they were feeding french fries to their kids the wrong way. "I should call protective services!" My barbecued pork, cole slaw and cheddar cheese open-faced melt was yper yper bananas. Still a contender for G.R.O.A.T. (Check the "Rules" on the site above if you think they are on some kind of lightweight ish.) Actually being able to see into the restaurant from the street through actual windows is a bit disconcerting. The act of getting into the old restaurant felt missionary and contingent, like you wouldn't necessarily get in because you got in once before and the place you found wouldn't necessarily be the place you found the first time. (I guess that's a little more Phantom Tollbooth than Columbus. Or is it The Lion, The Witch and The Wardrobe? Nah, that's too Christian parable-y.) I was never personally ejected from the old spot, though I saw Kenny eject several large parties. (Nobody ever talked back.) His kids made fun of my Tide hat once, though. I look forward to watching fights over cell phones and seating.
Posted by Sasha at February 19, 2004 03:39 PM | TrackBack