PICKING MY TOES IN POUGHKEEPSIE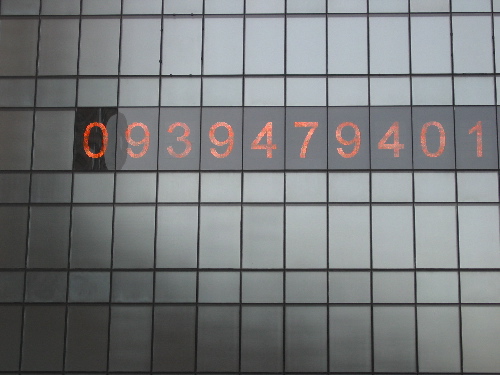 My two new favorite words to say are movieoke and Michael Bublé. If you don't know how to pronounce Bublé, try the most entertaining pronunciation you can think of. That's right. That's how you say it.
You might think, by definition, that Israeli metal would be the best in the world. It does not seem to be, though I have only given it about 45 seconds. By the end of the week, I will be buying Orphaned Land merch. [45 more seconds.] No I won't.
A sequence of songs I heard at the gym: The Doors' "People Are Strange" (I am bored by not liking The Doors and will now like them to see what it's like); The Eagles' "Hotel California" live (almost impossible to fuck this song up, even with nylon-string acoustic guitar); Don Henley's "All She Wants To Do Is Dance" (is this song about colonialism? or trying to get laid in Nicaragua? or a veiled suggestion that women can't be radicals? either way, it is the musical source for Fischerspooner); some nu punk band where the guy stands on a plane wing and stalks his ex in the rain; Linkin Park's "Numb" (computer writes "I hate you, Mom!" song); Evanescence's "Going Under" (computer writes "Thanks for the jeans, Mom, but I don't WEAR those anymore" song); and Britney Spears' "Toxic" (computer writes excellently over-torqued song about bio-terrorism or something).
Kurt Rosenwinkel, Jessica Hopper's fave new music bud.
New Wave stock update: Echo and Bunnymen (the real Interpol source) up, Japan up, Wide Boy Awake way up, Culture Club falling, Joy Division holding steady.
The pictures in that Ashler O'Koch book gave me intense sad gastro vibes and I could not start it.
Transitive property of influence: If I liked Elvis Costello when I was 15 (I did), does that mean I also liked Bob Dylan and Van Morrison at the time, even if I had the impression that I did not like them? If I liked Man Parrish, did I also like Kraftwerk? How does this change? If I ended up hating Elvis, Bob and Van (I do not), does that necessarily mean I would have hated them when I was 15? If I like the A Frames, do I like The Gordons?
The French Connection: Silent movie or fakeumentary? Don Ellis' score: genius or yper yper genius? How many other movies feature a bit part appearance by the real-life person who inspired the main character? How many movies have been based on books the director didn't even read? (That's got to be a big number.) How much fun would it be to do movieoke with the chase scene? Was the chase scene in Bullitt better? When David Chase talked about "dreams and music and dead air and stuff that goes nowhere," could he have been not thinking of The French Connection? Extra-special behavior of the Don Ellis score: The dissonant drone often comes in on top of diegetic music, giving everyone the "crazy crazy let me out of here" feeling.
Most microhouse building I've ever been in: Kiasma Museum, Helsinki.
Does Thrasymachus's argument in Plato's Republic presage the Marxist concept of false consciousness?
Why do "hip-hop" scenes in kids movies still use stock CD samples from the Paul Abdul/Art of Noise orchestral stab period? The more recent stock sample CDs are no more expensive.
A few weeks ago, a Union Square movie theater light board wrap looked, at first, like a news crawl update on bin Laden's capture: "The Miracle, Osama, Cold Mountain."
Posted by Sasha at March 10, 2004 11:58 AM | TrackBack