DESMOND CHILD, MARION RAVEN, MEAT LOAF, AVALON, JULY 31, 2006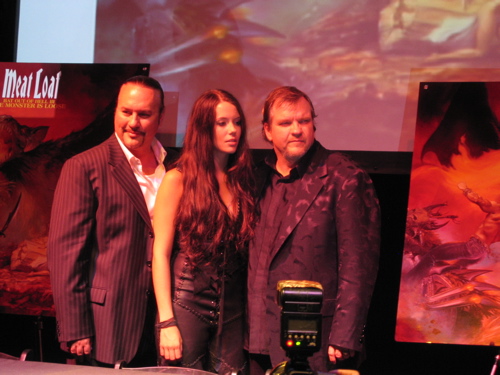 What happens at every press conference: The people on stage take turns saying that the other people standing (or sitting) on stage are actually, really, the people who are responsible for the fact that the product they are promoting is so good and buyable.
What was different about the press conference for Meat Loaf's "Bat Out Of Hell III":
1. We heard Meat Loaf talk, which could go on for a good, long time and not be boring.
2. We saw Marion Raven, who seems to be what a machine in Norway has done with Alanis Morissette. (On the cover of the 2005 Raven album I own, "Here I Am," she exhibits no preference for leather.)
3. We saw Desmond Child, which was like seeing Oz.
4. We saw Nikki Sixx be the median, not the peak.
5. We heard a song called "The Beast Is Loose" seven times, the point at which any song will wedge itself in your head.
Posted by Sasha at August 2, 2006 07:49 PM | TrackBack