HELLO, MR. HIP HOP GENIUS. I'LL BE OUTSIDE IN MY SLEEPING BAG WHEN YOU'RE READY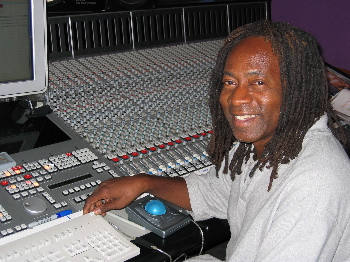 First day: Scheduled to hook up with Tim at 2 PM. Seven hours pass. We finally connect at The Hit Factory in Aventura. I hang from 9 to 10 with Jimmy Douglass. He remembers me from five years ago and says "Aw, you shoulda had me mix your band's record." (Don't rub it in, hombre!) He tells a funny story about playing "Get Ur Freak On" for Alan Parsons at a 5.1 surround sound convention. Who knew there was such a thing? He is mixing the new Missy album, which he is due to master in New York the next day. "Pump It Up" is liquid fire + Trouble Funk sample. Missy: "I love my gut, fuck a tummy tuck," with Nelly being exactly like Nelly. Jimmy plays me a 5.1 mix of the "Toys" song about her Butterfly vibrator. It's cool taking the Stereo Dragon ride but I can't imagine people going to the trouble of installing a system like this. Maybe in the car. Jimmy thinks everyone will have a 5.1 system soon. There are apparently two code protocols for 5.1, like Beta and VHS. One is SACD and the other is something else. I don't think either of us is sure about this.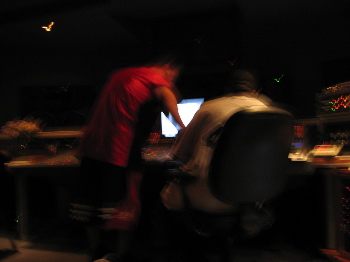 The Tim interview has a tricky fuse. Bzzft. I say that I don't like being kept waiting and Tim says he can give me 30 minutes. Oh, that was worth flying down for. He is in the middle of remixing Dido's "White Flag," which I end up loving. Give her the millions, I say. The interview ends up flowing, a perception confirmed by his engineers. Tim sings Bonnie Raitt. Many songs are deemed the "illest song ever," including "Who Can It Be Now?" and "Love Is a Battlefield." Someone brings me a Coke, because I am falling asleep. My jaw still throbs from the tooth extraction last week. I feel like God's voodoo doll, like Keith Talent in London Fields. The air conditioning is turned down to 40 degrees, I think.
Tim's engineer is Demo Castellon, who's been with him since Under Construction. I don't know if he tracks or just edits, since Jimmy is still on board. Demo, short for Demacio, looks about 20, and is wearing a full basketball uniform. He is incredibly fast in Pro Tools and very sweet. Tim wears a Yankees grey jersey. He is eating salad and bananas. He eats the banana in 12 seconds.
Second day: He has flown to Atlanta for a Cee-Lo video shoot. We have agreed to meet at night at the Hit Factory for the start off the LL Cool J session. After spending the day being unable to raise up his assistant on the cell phone, I show up at 10 PM. The security guard tells me Tim is not coming. I leave and watch the Yankees game. The lion's share of three days has been melted down for two hours. Whatevs.
Back at the Turnberry, I rediscover Mad About You on cable. Interesting pacing of the dialogue, lots of dips and noise, an almost improvised feeling. There's a strong dynamic between the two of them. (Where did they go, those two?) Wonder if some of the reality TV wave begins with a show like this and Seinfeld, where the mundane is the focus, the accuracy of the emotional and psychic landscape. This runs all the way through to Lost In Translation. See a commercial for the Indiana Jones DVD set, and it feels like it's 5 million years old.
The salads down here are death, watery iceberg lettuce and dressings that slime the situation without adding an actual quality. Steak is really the only thing to fuck with if you leave New York. I am becoming Dr. Schultz, some New Yorker provincial who can't leave Tribeca because of the sandwiches at Columbine (the store, not the high school). Waah waah I'm a big baby.
Marlins fans are so balanced. They're not nearly as belligerent about the World Series as I am. After I start throwing around stats and praising Clemens, the lady at Thrifty say "It's just a game," and I think, "Christ, she's right. I didn't even care about the baseball season a month ago. I didn't even know who Aaron Boone was." Error Boone, more like it!
Movies watched in hotel room: Tuskegee Airmen with L Fishburne (good), that weird domination sex movie with Rosie and Dan Ackroyd, part of Matrix Reloaded before I fell asleep, and part of Glitter, which goes beyond my expectations. Carey is so unskilled that the movie is more unreadable than unwatchable. What is the mood supposed to be in any given scene? Unknown. Much time is given over to this sour, depressing thread about her ex-boyfriend Dice being murdered and her mooning about, sort of crying. It seems her entire approach to acting was making sure she could get Worked Up enough to Cry. The logical leaps are so enormous they resist analysis. Instead of milking the tension inherent in the quest for stardom, Carey just becomes one, in approximately two scenes. She doesn't even pat herself on the back for striving. She just kind of forgets what parts are necessary for a movie to feel like a movie. It also looks and sounds like it was made in 1978, which is very surprising, maybe even deliberate, which just torques up the weird factor. What it resembles most is an attempt to make a classic bad 70s movie, maybe without telling Carey.
Posted by Sasha at October 22, 2003 11:20 PM | TrackBack