PATTI SMITH, BOWERY BALLROOM, DECEMBER 29, 2006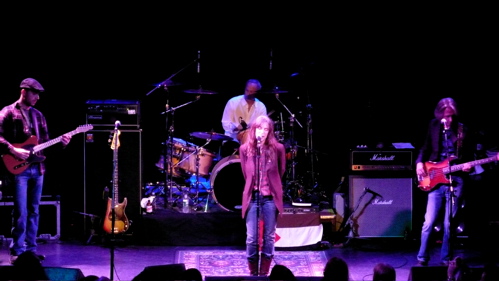 Patti's son, Jackson, played guitar. He is pictured on the far left (stage right). Tony Shanahan played bass and, on this song, keyboards (placing him out of the frame). "HAPPY BDAY" was spelled out in red masking tape on the back of the keyboard. December 27: Lenny Kaye. December 30: Patti Smith and Bo Diddley.
For what she described as the "stragglers night," Patti and the band played all of the "Dream Of Life" album, in order. She told many stories, and commented several times on the back spasms that had prevented her from rehearsing with the band. It was a loose set, not particularly Patti-like, if you think of Patti as the one who conjures and rattles. After "Dream Of Life," the band did a b-side from the "Dream of Life" sessions, then "Frederick" (recognition, wooh), and some covers: "Hey, Bo Diddley" (is that the right name?), "Soul Kitchen" and "Gimme Shelter," on which a member of the road crew played bass. I am not sure if these songs are going to be on her new covers record.
Some of Patti's comments: there is no reason to celebrate Saddam's hanging; Michael Jackson is a better dancer than Prince; "Frederick" is about her late husband, Fred "Sonic" Smith; all the music on "Dream Of Life" was written by Fred; it snowed the night Andy Warhol died, making "everything white, like Andy's hair, and I think that was New York's tribute to Andy"; that Eleanor Roosevelt had great shoes; an extended riff on critics who didn't adequately acclaim "Dream Of Life," and one critic who misinterpreted a line about "Shakespeare's child"—he mistakenly thought Patti thought herself that child; "I can't remember the fucking words"; and "We're gonna be really good tomorrow and the next night."