COLLECTED POP NOTES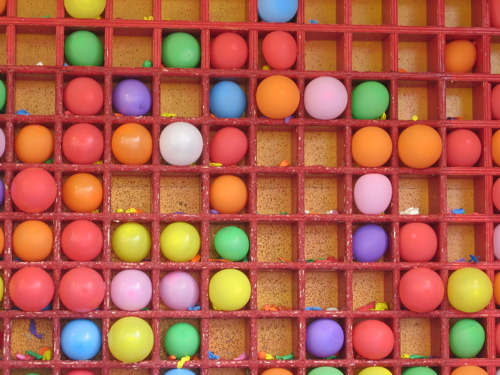 April 21, 2008: "In Country," Ashton Shepherd's "Sounds So Good."
January 7, 2008: "Instant Replay," Miranda Lambert and Prodigy only.
September 24, 2007: "Corner Man," Miles Davis's "The Complete On The Corner Sessions."
September 3, 2007: "Floor Show," Dude N Nem, footwork, juke, dancing, hip-hop, YouTube.
July 2, 2007: "The Tender Trap," OutKast and UGK's "Int'l Players Anthem."
April 23, 2007: "Production Effects," Timbaland's "Give It To Me" and Swizz Beatz's "It's Me, Bitches."
April 16, 2007: "The Shoniwa Show," The Noisettes' "What's The Time Mr. Wolf?"
March 26, 2007: "Hip Replacement," LCD Soundystem's "Sound of Silver."
February 5, 2007: "Paired Off," The Bird and The Bee.
January 8, 2007: "Instant Replay," Babyshambles, Sibylle Baier, Grizzly Bear, Julie Roberts, Trentemöller.
December 11, 2006: "And In The End," The Beatles' "Love."
October 30, 2006: "Top Down," Jay-Z's "Show Me What You Got."
September 25, 2006: "Crazy From Love," Beyonce's "B'Day."
September 4, 2006: "They Love The Eighties," Nouvelle Vague, Grant-Lee Phillips, Susanna & the Magical Orchestra, Albert Kuvezin & Yat-Kha.
July 10, 2006: "Pet Sounds," Be Your Own Pet.
May 1, 2006: "High Marks," E-40's "My Ghetto Report Card."
April 24, 2006: "Moz Def," Morrissey's "Ringleader of the Tormentors."
April 10, 2006: "From A To Zé," Tom Zé's "Estudando o Pagode."
March 20, 2006: "Subtle Charms," Shrift's "Lost In A Moment."
March 6, 2006: "Singles Going Steady," James Blunt, Prince, Nelly.
February 13, 2006: "Monkeys Do," Arctic Monkeys' "Whatever People Say I Am, That's What I'm Not."
January 9, 2006: "Going Back," Natasha Bedingfield, Clipse, DJ Koze, Bill Withers.
December 19, 2005: "The Snowman Cometh, Stayeth," Young Jeezy's "Let's Get It: Thug Motivation 101."
November 14, 2005: "Singles Going Steady," Green Day and Miranda Lambert.
October 24, 2005: "Great Scots," Franz Ferdinand's "You Could Have It So Much Better."
August 29, 2005: "Rockin' Robyn," Robyn's "Robyn."
August 22, 2005: "Fuzzy Thinking," Dungen's "Ta Det Lugnt."
July 25, 2005: "Closet Case," R. Kelly's "Trapped In The Closet."
June 27, 2005: "Rare Essence," Gang of Four's "Entertainment!"
June 13, 2005: "Warm Milk," Coldplay's "X&Y."
May 23, 2005: "Singles Going Steady," Missy, Annie, Kelly Clarkson.
May 9, 2005: "Drablands," Bruce Springsteen's "Devils & Dust."
May 2, 2005: "Mixed Blessings," Big Boi's "Got That Purp."
March 21, 2005: "Beck Is Back," Beck's "Guero."
March 7, 2005: "Rising Sun," MU's "Out of Breach (Manchester's Revenge)."
December 13, 2004: "Disco Retro," Cristina's "Doll in the Box" and "Sleep It Off."
October 18, 2004: "All About Ayler," Albert Ayler's "Holy Ghost."